Sherman vocabulary
1) Design of the hull
2) Angle of the front glacis

3) Dry and wet stowage


T
he M4 Sherman tank is well-known because it was built in large numbers (there were nearly 50,000 units built), but it is also a tank well know for having been built in several versions.
To recognize a Sherman version from another one, a specific vocabulary is used, which I'll try to explain on this page.



1) Design of the hull
T
here are 3 main designs for the hull :
-Welded : several armor plates are welded together
-Cast : a one-piece hull made in a mold, using a casting process
-Composite or Hybrid : cast front hull section mated to a welded rear hull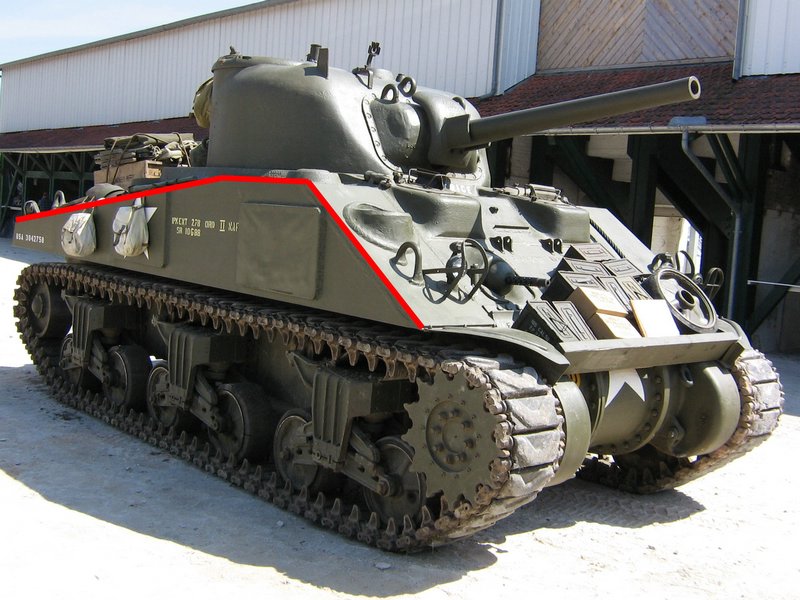 The welded hull can be recognized thanks to its angular silhouette.




The cast hull can be recognized thanks to its curved silhouette.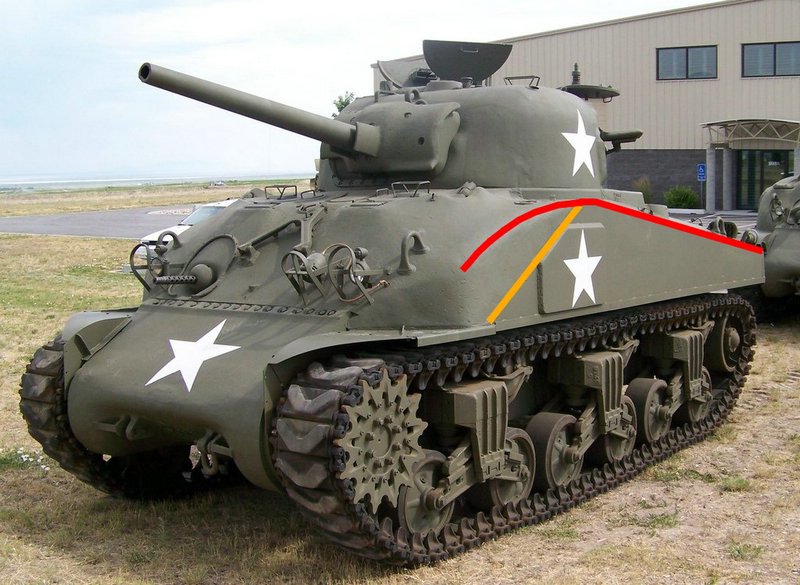 The composite or hybrid hull can be recognized thanks to its curved front and angular rear, seperated with a weld (shown in orange).
2) Angle of the front glacis
Sherman tanks can be found with 2 different front glacis angles

(angles calculated from the vertical)

:
-the earliest versions have a 57° glacis, these are the versions with the protruding hoods and small hatches.
-the later versions have a 47° glacis, and larger hull hatches.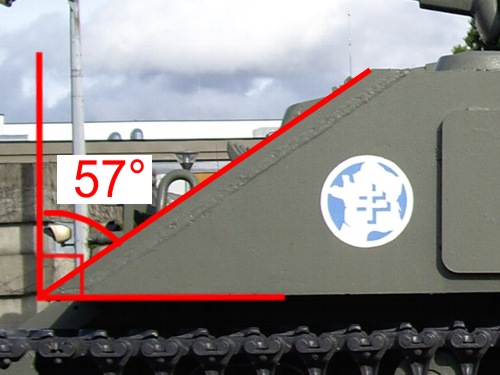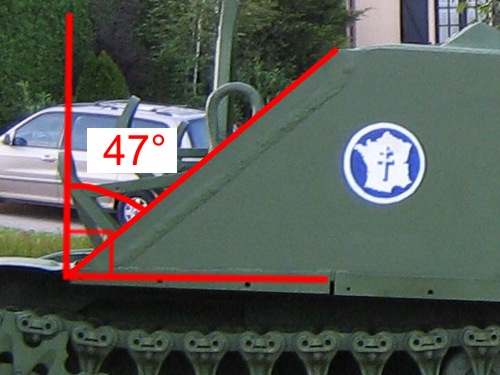 3) Dry and wet stowage


Early Sherman models were prone to burning when struck by high velocity rounds. An American survey carried out concluded that 65% of M4 Sherman tanks burnt out after being penetrated.
United States Army research proved that the major reason for this was the stowage of main gun ammunition in the sponsons above the tracks. At first a partial remedy to ammunition fires in the M4 was found by welding one-inch thick appliqué armour plates to the sponson sides over the ammunition stowage bins.


Due to vulnerability of ammo stowed in the sponsons of original production M4 versions, the main gun ammunition was redesigned to be under the turret floor in bins that were surrounded by a water/antifreeze mixture that was supposed to smother fires before they could become lethal. This coincided with production changes to the upper hull assembly on the M4 (105), the M4A1 (76), the M4A2 and all M4A3s. The drivers' hatches were enlarged; the glacis plate was simplified and moved to a 47-degree angle, giving the hull a distinct exterior change. Earlier tanks are unofficially referred to as "dry" stowage to refer to the earlier pattern hull.
This decreased the likelihood of the tank catching fire. A U.S. Army study in 1945 concluded that only 10-15 percent of wet-stowage Shermans burned when penetrated, compared to 60-80 percent of the older dry-stowage Shermans (Wikipedia).
HOME