Pierre-Olivier Buan,
Joe DeMarco and Leife Hulbert present :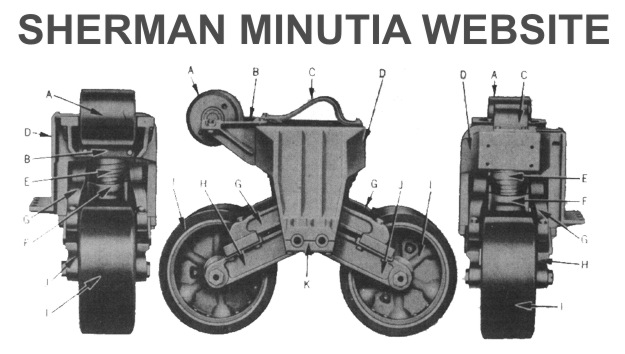 The engine area
Engines
Engine decks
M4 and M4A1 Lower Rear Hulls and Engine Access Doors

Dashboards
The turret
75mm turrets variants
(D50878 and D78461, "Low bustle" and "High bustle")
76mm turrets variants
Main gun mounts, mantlets and main guns
Turret cupolas
("Split hatch cupola" and "vision cupola")
Turret pistol port
Tracks and suspension
VVSS suspension
VVSS tracks
VVSS end connectors
E9 suspension
HVSS suspension
HVSS tracks
Post-1945 upgrades
M4A3E4 and M4A1E6 Shermans
How to recognize an M4A1 76mm upgraded for the Mutual Defense Assistance Program (MDAP)?
How to recognize a French "Transformé" Sherman?
Sherman "accessories"
Porpoise ammunition sledges
Sherman data and documents
Sherman Serial Numbers list
a detailed list of the Sherman Serial Numbers ranges, arranged by model / manufacturer / SN range
Sherman Statistics
production detailed by type, manufacturer and year
The table of known Sherman Serial Numbers
a list of the known Sherman Serial Numbers listed by SN / model / manufacturer / correct RN / location
Sherman Foundry Symbols and Trademarks
a comprehensive PDF file showing the various casting marks that one can find on a Sherman tank
Sherman Manufacturing data locations
a comprehensive PDF file explaining where to find the casting marks and stamped serials on a Sherman tank
head : soldat_ryan@hotmail.com